Recruiting for Professional Services roles?
Unitemps is different from most other employment businesses in both culture and model. Unlike commercial competitors, we prioritise client experience over sales targets. Our staff do not work on commission and are instead driven by providing an excellent service. We provide solutions, not prescriptive processes.
What can Unitemps offer?
Whatever our clients need, we can provide. Our sector knowledge is broad but in-depth. Unitemps supports clients within industry, commerce, public sector and education with a candidate base which includes professionals from all levels and disciplines.
Our proven systems help to streamline the recruitment process on your behalf, handling everything from job adverts, applications and shortlisting to timesheets, payroll, and legislative compliance.  Contact the branch nearest to you and chat with a consultant.
For non-university-based clients, we adhere to the process below. Please contact your branch manager if you are recruiting for university-based roles.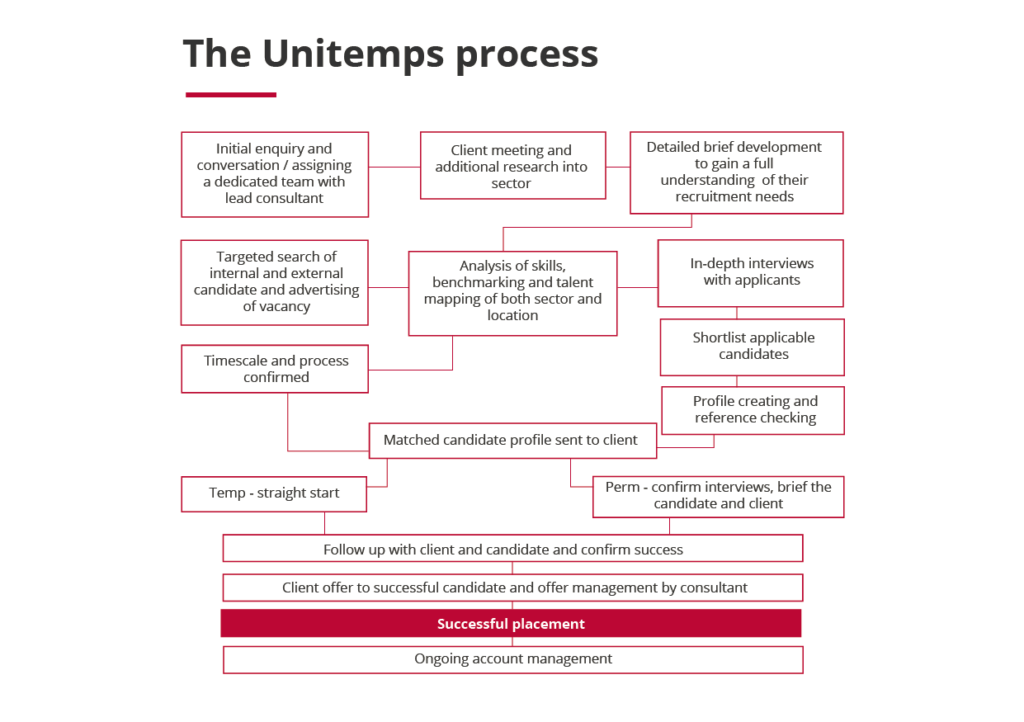 Examples of roles we've successfully filled:
HR Officer
Management Accountant
Awards and Ceremonies Assistant
Student Communities Project Administrator
Focus group Facilitator
Graduate Settlement and Billing Analyst
Marketing and Communications Executive
Occupational Therapist
Contact us and see how we can find the perfect candidates for your vacancies.
Last updated on 21 September 2021
Share this article