Recruiting for Engineering roles?
A unique campus-based office network gives Unitemps access to a large pool of motivated candidates from the student population, as well as graduates and skilled workers from the local area.  Our recruitment solutions are tailored to you. We handpick candidates with the skills, experience, and personality relevant to both your company and your role.
What can Unitemps offer?
Whether you need a project assistant, graduate engineer, research technician, or intern, we have the candidate base to fulfil your needs.
We can assist your needs and find candidates from a one-hour assignment to a permanent assignment throughout most of the UK. We construct the right solutions for you.
We can provide skilled and un-skilled candidates that are ambitious and ready to make an impact within your business. Our proven systems help to streamline the recruitment process on your behalf, handling everything from job adverts, applications, and shortlisting to timesheets, payroll, and legislative compliance.
For non-university-based clients, we adhere to the process below. Please contact your branch manager if you are recruiting for university-based roles.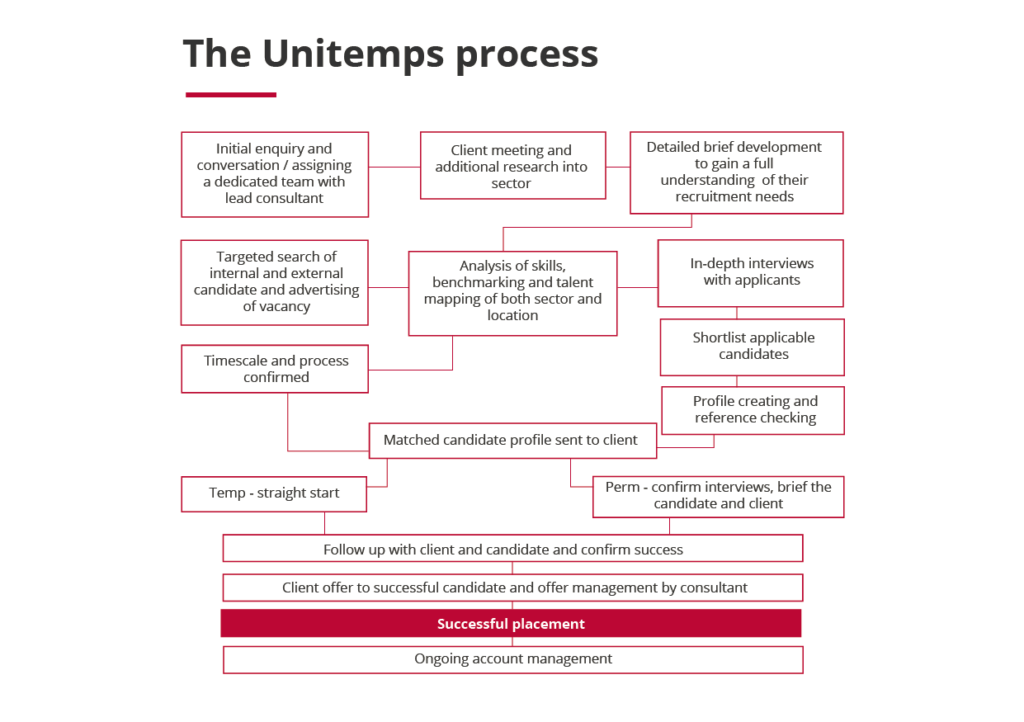 Roles we've successfully filled:
Project Assistant: Composite Braiding Manufacturing Engineer
Part-time Coordinator – Materials and Manufacturing in Healthcare Network (MMHN)
Engineering Summer Internship
Graduate Structural Engineer
Project Assistant: Sales/CAD Engineer
Administrator/Content Developer – APP
Project Assistant: Electronics Development Engineering
Graduate Quantity Surveyor
Electronics Engineer/ Workshop Operative
3D Print Operator
Electronics Design Engineer
Contact us and see how we can find the perfect candidates for your vacancies.
Last updated on 21 September 2021
Share this article