Recruiting for job roles in the Creative Industries?
When you need ideas to come to life, call on the creative team. We have candidates that can breathe life into your brand and bring originality to your business.  Whether you need a full-time graphic designer, a part-time marketing assistant, or musicians for an event, we have a host of creative individuals to make your concepts a reality.
Unitemps is different from most other employment businesses in both culture and model.  Unlike commercial competitors, we prioritise client experience over sales targets. Our staff do not work on commission and are instead driven by providing an excellent service. We provide solutions, not prescriptive processes.
Our state-of-the-art online systems help streamline the recruitment process and manage everything from job adverts, applications, and shortlisting to timesheets, payroll, and legislative compliance.
Contact the branch nearest to you and chat with a consultant.
For non-university-based clients, we adhere to the process below. Please contact your branch manager if you are recruiting for university-based roles.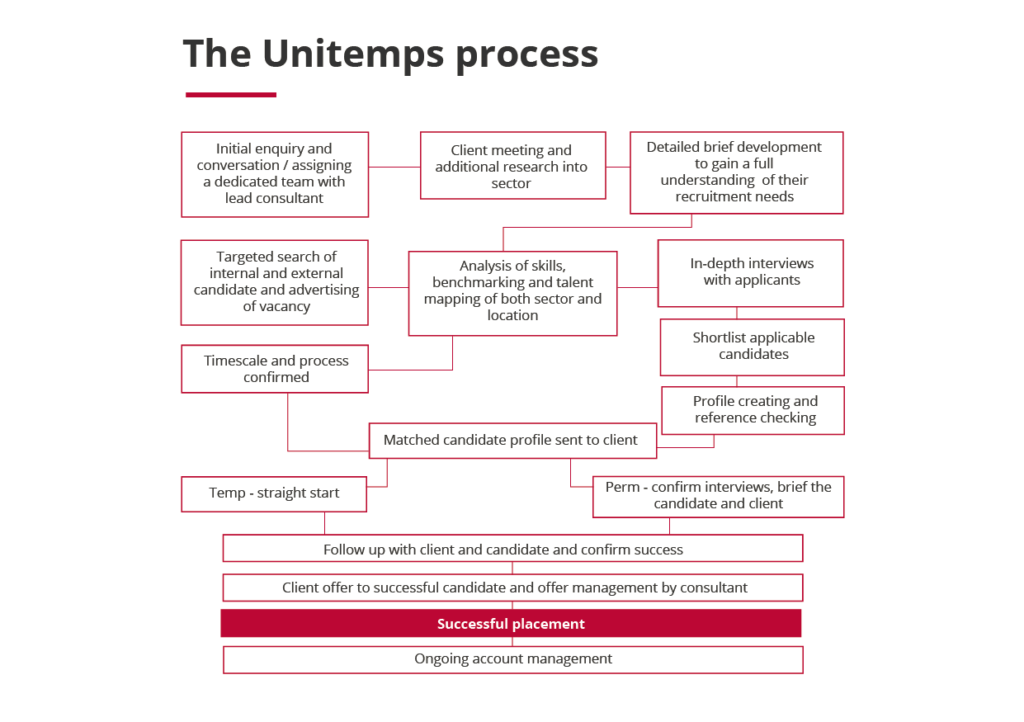 Roles we've successfully filled:
2D Animator (meaningful magic)
Graphic Designer
Photographer
Occupational Therapist
Social Media Intern
Digital Marketing internship
Website Developer / Designer
Digital Media Designer
Innovation Fellow
App Designer/Developer
Lighting Designer
Contact us and see how we can find the perfect candidates for your vacancies.
Last updated on 17 October 2023
Share this article