Recruiting for Academic Research roles?
Unitemps stands apart in the recruitment sector as a truly unique proposition. Over the last 21 years, we have listened to and worked with over 1000 client organisations within the UK. We have honed our recruitment services to be flexible and solution-driven. A unique campus-based office network gives Unitemps access to a large pool of motivated candidates from the student population, as well as graduates and skilled workers from the local area.
What can Unitemps offer?
Our large student candidate base gives us access to potential employees across a range of academic disciplines with the skills you are looking for to assist your academic research vacancies.  From research technicians to assistants, for large or small-scale projects, full-time, part-time, fixed-term, or ongoing, we have the ideal candidate waiting.
We can deliver on our promise to supply quality staff almost anywhere in the UK at any time of the year, even at short notice. Unitemps combines community-orientated philosophy with efficient and professional services. Our staff are not paid commission, allowing them to focus on excellent customer service and delivery. All revenues generated are reinvested into the academic institutions and campus facilities helping the students of tomorrow.
Our proven systems help to streamline the recruitment process on your behalf, handling everything from job adverts, applications and shortlisting to timesheets, payroll, and legislative compliance.  Contact the branch nearest to you and chat with a consultant.
For non-university-based clients, we adhere to the process below. Please contact your branch manager if you are recruiting for university-based roles.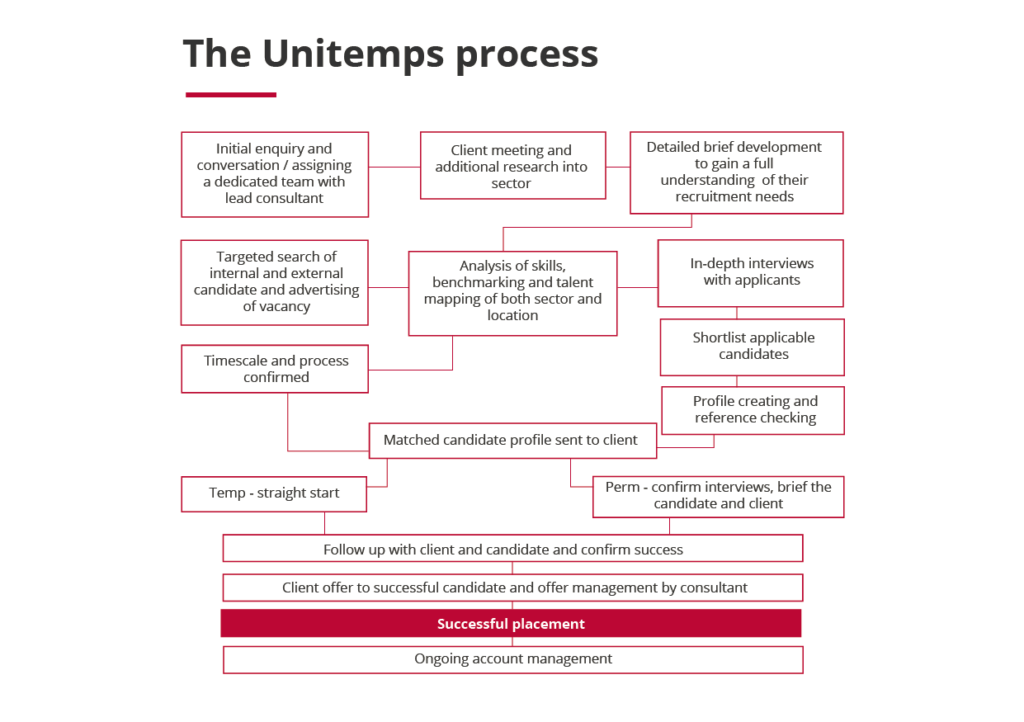 Examples of roles we've successfully filled:
Research Assistant
Senior Research Fellow
Research affiliate
Access and Widening Participation Research Assistant (TASO)
Focus group Facilitator
Research Assistant- Impact of Covid on the Creative Industries
Post-Punk Research Intern
Oral Histories Intern
Contact us and see how we can find the perfect candidates for your vacancies.
Last updated on 21 September 2021
Share this article