On Thursday, 6 July 2023, the Unitemps network got together at the University of Warwick for the Unitemps Annual Conference and Awards 2023.
Throughout the day, colleagues had the opportunity to network with one another and share best practice. They took part in a compliance session, which looked at legislation changes and how branches could make the most of Unitemps processes, and listened to a motivational talk from guest speaker Jonathan Acott, who recounted his personal story and shared advice on how attendees could be the best version of themselves.
It was great to welcome Anna Wilson from Heriot-Watt University, who is the Branch Manager for the newest Unitemps franchise to join the network. Unitemps Heriot-Watt will open in September 2023, ready for the new academic year, and the team is looking forward to getting started.
Anna said: "A Unitemps branch is going to have a really positive impact on the whole university and on students who are always looking for jobs and opportunities to earn while they learn. With staff, it's going to be a lot more efficient when hiring temporary members of staff and ease the burden of hiring managers."
It has been a busy year for Unitemps, with the network placing 39,000 candidates, creating over 77,000 assignments and paying out £56,000 in wages during the last 12 months. Unitemps at University College Birmingham also celebrated its 10-year anniversary this year!
It was great to see staff members come together to celebrate everything they have achieved over the past year during the Unitemps Awards 2023, with plenty of awards and certificates handed out during the ceremony.
It was a pleasure to award Unitemps at Staffordshire University with Branch of the Year 2023. Unitemps at Liverpool John Moores University were the proud winners of two awards, with the branch picking up the Managers Award and their Branch Manager, Marnie Blackman-Cook, winning the External Consultant of the Year award.
The Internal Consultant of the Year award was won by Jade Rumbelow, Recruitment Consultant at Unitemps UCL. Jade said: "I am grateful to have won Internal Consultant of the Year. It is a testament to not only mine but the team's hard work, dedication, and commitment. It's bittersweet as I will be leaving Unitemps in August but I am very pleased to have been recognised for my work."
We would also like to say congratulations to Unitemps at Nottingham Trent University, who won the Compliance Award, Violeta Savic from Unitemps at University College Birmingham for winning Support Person of the Year, Chris Adams from Unitemps Head Office for winning Head Office Support Person of the Year, and Colin Redpath from Unitemps at Northampton, who was awarded Newcomer of the Year.
Zara Smyth, Unitemps Franchise Relationship Manager, said: "It has been a fantastic year for the Unitemps network, and the Unitemps Conference gave us a chance to bring everyone together to celebrate. With so many new staff members joining Unitemps over the last year as the teams have expanded, the conference allows a great opportunity for those working across different Unitemps universities to network, share best practice and collaborate.
"On behalf of the Unitemps Franchise Team, I would like to say a huge thank you to everyone across our Unitemps branches for all of their continued hard work over the last 12 months, and congratulations to all our nominees, runners up and winners from this year's Unitemps Awards – there were some fantastic nominations this year!"
Discover more about how a Unitemps franchise could support your university and its students on our website.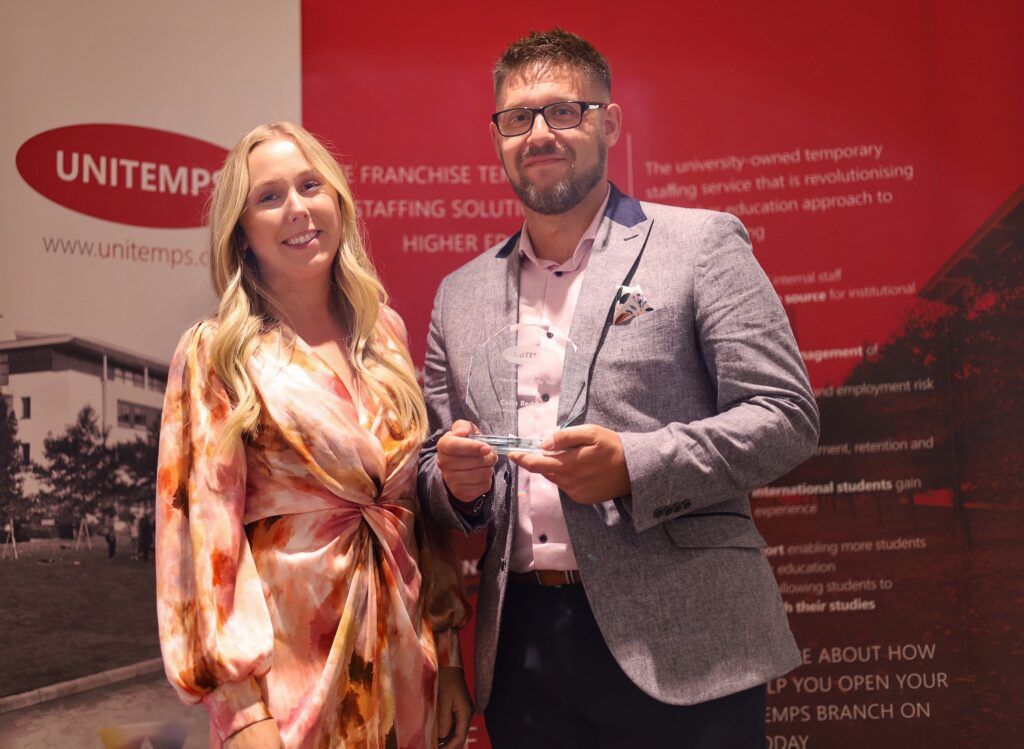 Last updated on 30 August 2023
Share this article