Recruiting for IT and Technology roles?
With more businesses relying on technology, there is a growing need for candidates with IT experience. If you need assistance with a large project or some help setting up a meeting room, we have the right candidates to get the job done. With our office network covering numerous sites throughout the UK, our consultants have the best opportunity to contact candidates from across the country. This ensures that we can deliver on our promise to supply quality staff almost anywhere in the UK at any time of the year, even at short notice.
What can Unitemps offer?
Unitemps is different to most other employment businesses in both culture and model. Unlike commercial competitors, we prioritise client experience over sales targets. Our staff do not work on commission and instead are driven by providing an excellent service. We provide solutions, not prescriptive processes.  Contact us to see how we can help.
Our proven systems help to streamline the recruitment process on your behalf, handling everything from job adverts, applications and shortlisting to timesheets, payroll, and legislative compliance.  Contact the branch nearest to you and chat with a consultant.
For non-university-based clients, we adhere to the process below. Please contact your branch manager if you are recruiting for university-based roles.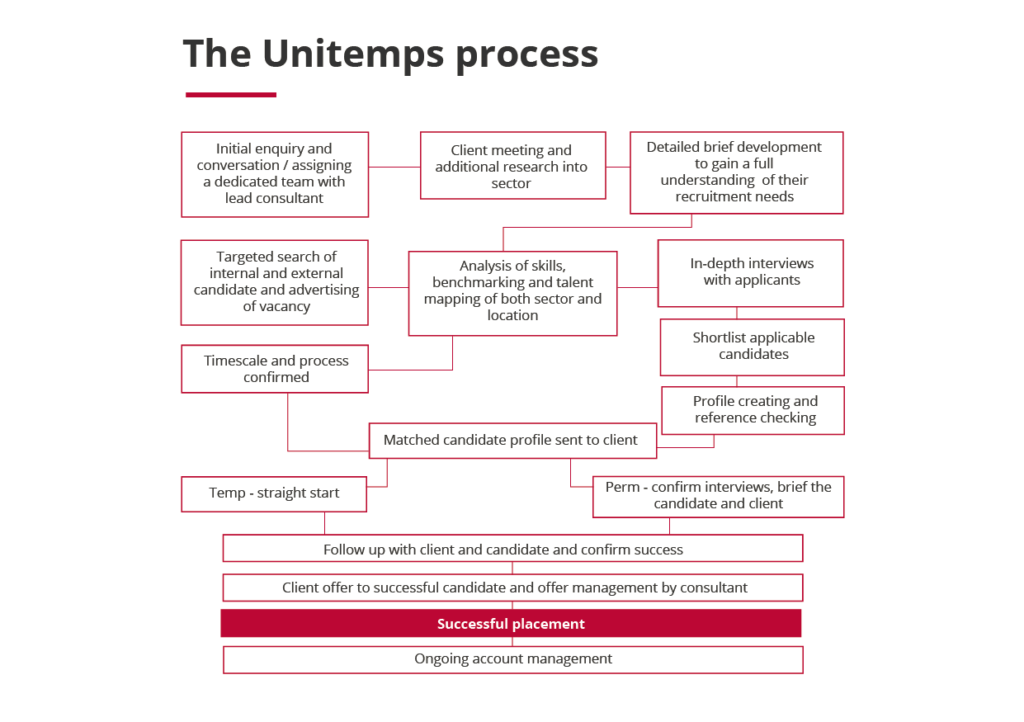 Examples of roles we've successfully filled:
eAssessment Officer
Mobile App Developer
Graduate Web Developer
Full Stack Software Developer
Systems Engineer
Student IT Systems Co-ordinator
Graduate Software Engineer
Cloud and Data Support Engineer
IT Analyst (Software Support)
Android Developer
Contact us and see how we can find the perfect candidates for your vacancies.
Last updated on 17 October 2023
Share this article