Recruiting for Graduate roles?
Born and nurtured in the UK higher education sector, Unitemps has a unique viewpoint on solutions required and provided within the recruitment market compared with our competitors. In that sense, we stand apart. This also gives us access to a database of graduates, often looking for their first role and some work experience. If you are looking for candidates to bring fresh ideas to your business, give us a call.
What can Unitemps offer?
Our experienced Recruitment Consultants have the background to understand your business needs and find you the best talent on the market. In addition, we can help advise you on your recruitment strategies.
Our proven systems help to streamline the recruitment process on your behalf, handling everything from job adverts, applications and shortlisting to timesheets, payroll, and legislative compliance.  Contact the branch nearest to you and chat with a consultant.
For non-university-based clients, we adhere to the process below. Please contact your branch manager if you are recruiting for university-based roles.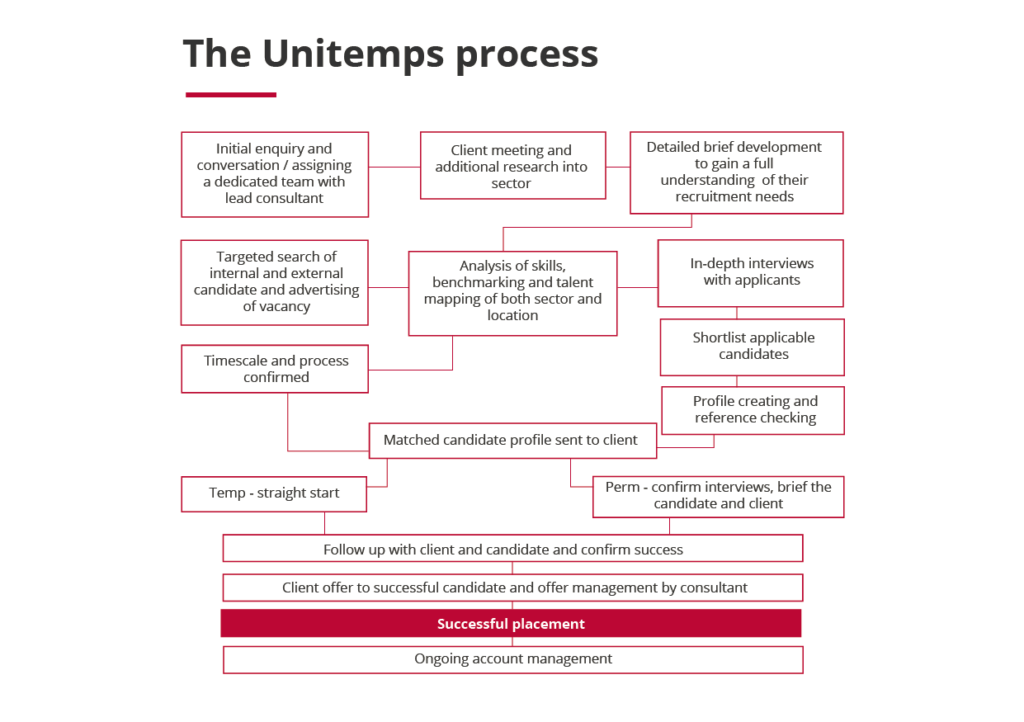 Examples of roles we've successfully filled:
Internships
Graduate Podiatrist
Graduate Trainee Accountant
Graduate Web Developer
Mobile App Developer
Postgraduate Radiographer
Graduate Settlement and Billing Analyst
Graduate Structural Engineer
Graduate Marketing and Communications Executive
Contact us and see how we can find the perfect candidates for your vacancies.
Last updated on 21 September 2021
Share this article