Despite a last-minute switch from an in-person event to an online one, Unitemps at University College London (UCL) still managed to get together with candidates online to celebrate their hard work and achievements throughout 2022 at the UCL Unitemps Awards.
Congratulations to the runners-up and winners!
Office Support of the Year
Winner: Akbar Manan ​- Faculty of Laws. Nominated by Nagat Mederick, Cat Balogun and Simeon Brookstone
Runner Up: Usha Rai​- Division of Medicine. Nominated by Matthew Brown and Latefah Scott
Nominees: Desart Ismaili​, Akbar Manan​, Nura Jamac​, Monica Fonseca​, Ann-Marie Lewis​, Kit Denison, Elizabeth-Ruby Towers​, Alison Smythe​, Usha Rai​, Aleksandra Terzova​, Kathryn Whelan​, Liz Jackson, Huda Ahmed
Research Assistant of the Year
Winner: Yue Zhou ​- IOE Dept of Curriculum, Pedagogy and Assessment. Nominated by Jie Liu.
Runner Up: Mallory Marie Bellairs​- Bartlett School of Environment, Energy & Resources. Nominated by Lorenzo Lotti
Nominees: Sigrun Clark​, Emily Burchell​, Max Taylor-Davies​, Mallory Bellairs​, Eponine Howarth​, Eun Jin Lim​, Malva Granziol​, Mutsa Mhende, Ciaran McDonald
Intern of the Year​
Winner: Elizabeth Walter ​- IOE Dept of Education, Practice and Society. Nominated by JD Carpentieri.
Runner Up: Olivia Elizabeth Carreras Jago​ – CRUK Cancer Trials Centre. Nominated by Katie Driver.
Nominees: ​Olivia Carreras-Jago​, Machaela Palor​, Elizabeth Walter
Student Ambassador of the Year
Winner: Robin Mitchell​ – SSEES. Nominated by Sam Kelly​
Runner Up: Lauren Margaret Avis – SSEES. Nominated by Sam Kelly​
Nominees: Robin Mitchell​, Lauren Avis​, Esther Ambrose-Dempster​, Kristyna Campbell
Technical Support of the Year
Winner: Antanas Melinis​- Archaeomaterials Technician, Institute of Archaeology. Nominated by Michael Charlton
Runner Up: Alexandra Searle​-Engineering Science Faculty Office. Nominated by Romain Meunier​
Nominees: Alex Searle​, Nikoletta Zahony​, Antanas Melinis​, Tiemothy Wuisan​, Samuel Broadhead
Department of the Year
Winner: Mechanical Engineering. Nominated by Nikolaos Salaris and Ruby Towers
Runner Up: Student Centre & Enquiries. Nominated by Jacob Hatcher
Hiring Manager of the Year
Winner: Chrisoulla Thalasselis. Nominated by Chaeyoon Kim
Runner Up: Dr. Marina Romanello. Nominated by Kim Robin van Daalen
Nominees: Luka Drulovic, Cathy Price, Bryte Amponsah, Samrah Rizvi, Kerry Calvo, Amad Uddin, Dr. Marina Romanello, Natalie – Rose West, Annalisa Marini, Mykal Riley, Rachel Smith, Professor Rachel Batterham, Chrisoulla Thalasselis, Sarah Jeal, Eira Rawlings, Emilia Olsen, Andreas Opitz, Joan Coffey, Arthur Shaw, Simeon Brookstone, Emma Horan, Ieva Kelpsaite, Samrah Rizvi, Matheus de Andrade, Prof Qing Gu
Congratulations to everyone at Unitemps University College London who were shortlisted, and those awarded as runners-up and winners! It's been another challenging year, but it's great to see you continue to thrive.
Thank you to everyone who joined us for the online celebration, we really enjoyed having you there, let's hope next year it is in person!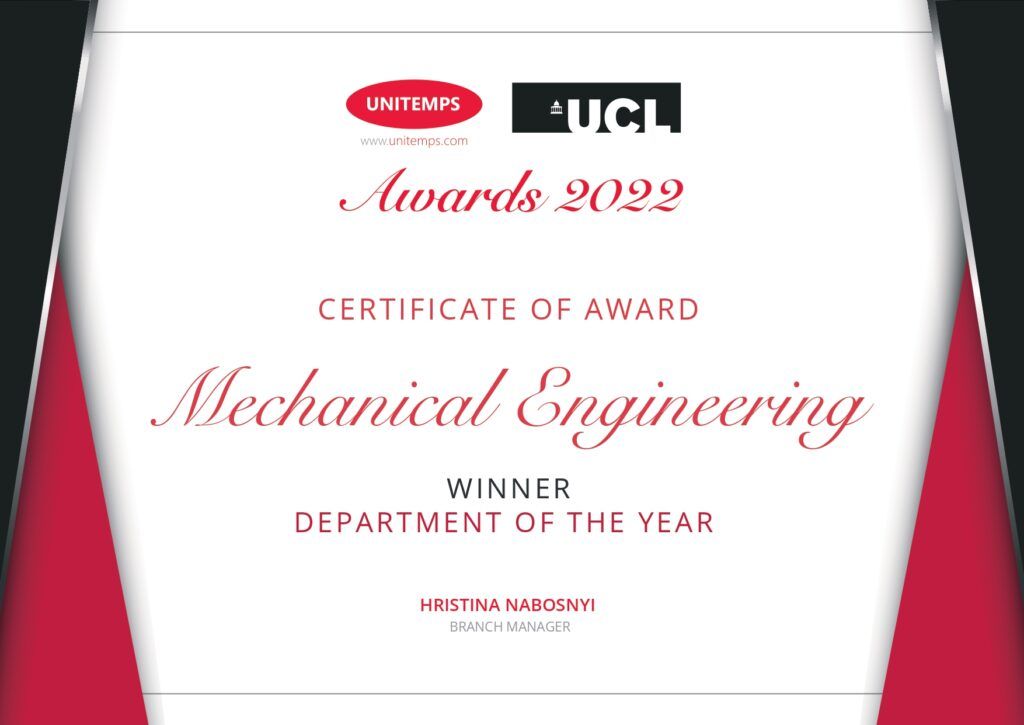 Last updated on 21 February 2023
Share this article