We asked Christianah Babajide, second year law student at The City Law School about her experience with Unitemps and she gave us an insight into some of the roles she has taken on and the range of work experience she has had since starting with Unitemps.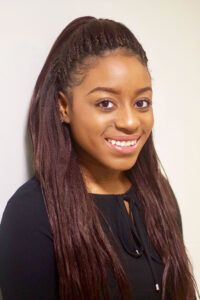 Why did you register with Unitemps?
I registered with Unitemps in my first year of my law degree because I wanted to earn some money and develop my CV whilst studying. Fortunately, I did just that and more. However, I didn't realise I would enjoy it so much – it was truly a rewarding experience; one which I would recommend to students.
What jobs have you done?
I've worked in several roles across the university. My shortest role was working as an Applicant Day Student Ambassador whilst my longest assignment was for three weeks working as a Short Course Events Assistant. A few of my other assignments were Student Marketing Content Writer, Charity Fundraiser, Market Research, Admin Assistant and Undergraduate Prospectus Model. I have enjoyed the broad variety of jobs Unitemps has offered me, which has let me learn new things every time.
What are the best things about Unitemps?
Where do I start? I have enjoyed so many things about Unitemps. I have enjoyed working with staff across the University and meeting different calibres of people. I also like the variety of work; Unitemps offers numerous assignments that cater to different skill-sets and experiences. Working at Unitemps is definitely a good way to boost your CV and display those key transferable skills employers are looking for. Despite only working there for two years, I have had the chance to work as an Events Assistant, Student Ambassador, Receptionist, given campus tours and much more. Most of the time it doesn't even feel like a job because I enjoy it so much! I have also had the chance to support the marketing team whilst developing my administrative and communication skills in an office setting.
What have you gotten from the Unitemps experience so far?
This experience has been invaluable. Although I've worked various jobs, all my assignments have required me to work as a team with others and speak about the famous history of my university. As an aspiring lawyer, I have had a chance to develop my soft skills such as organisational, communication and interpersonal skills; attributes that will come handy when dealing with clients.
I have had a rewarding time working various roles and I encourage all students to grab the opportunity, if for nothing else then for the sheer joy of representing your university!
Take a look at the student jobs available with Unitemps.
What advice would you give to students about working with Unitemps?
My advice to students is always be punctual. Being on time is very important to Unitemps and leaves a good impression on your employer – it could be the deciding factor on whether they choose to employ you again. My second piece of advice is always carry out your assignments to the best of your ability; don't apply for a role for the sake of it. Ask yourself, will I be able to perform my best? If yes, then go for it. My last piece of advice would be, don't forget to form friendships with your colleagues and have fun!
Register with Unitemps and view similar roles that gave Christianah her varied skill-set and experiences.
Last updated on 19 December 2022
Share this article